Why choose SSD Web Hosting plans:
SSD Disks are upto 6 times faster than HDD - you get unparallel experience when you host on SSD plans and your site out performance the ones hosted on HDD disks! Other benefits with our SSD plans are as follows:
Raid Protection
We use array of Disk to replicate the data, real time. So your data is safe even if a disk crashes!
Malware Scanning
We use trusted Third Party tool to scan uploaded data realtime - infected files are caught before they destroy your site.
Enterprise Servers
we use enterprise grade servers with SSD disks to host the sites! You get the best in class hosting experience
Email Delivery
We use delivery expert tools to scan for spam and deliver your emails to Inbox - no IP blacklisting!
SSD v/s HDD Web Hosting Comparison: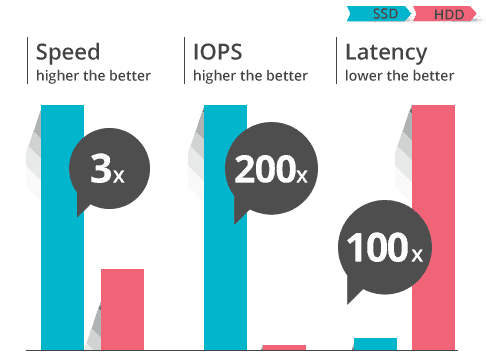 Got questions regarding SSD Web Hosting?
Who should choose SSD Hosting?
Anyone can go for SSD Hosting, SSD works better than HDD for all kinds of website. If you don't have enough budget or you are beginner, you can go for regular web hosting plans.
Does SSD hosting support Wordpress?
Yes, SSD is recommended for Wordpress sites.
What is off-site backup?
We go one step ahead and take Off-site backups of accounts on a monthly basis (for applicable plans). This way your data is secured on another location and can be retrieved in case of a diasater.